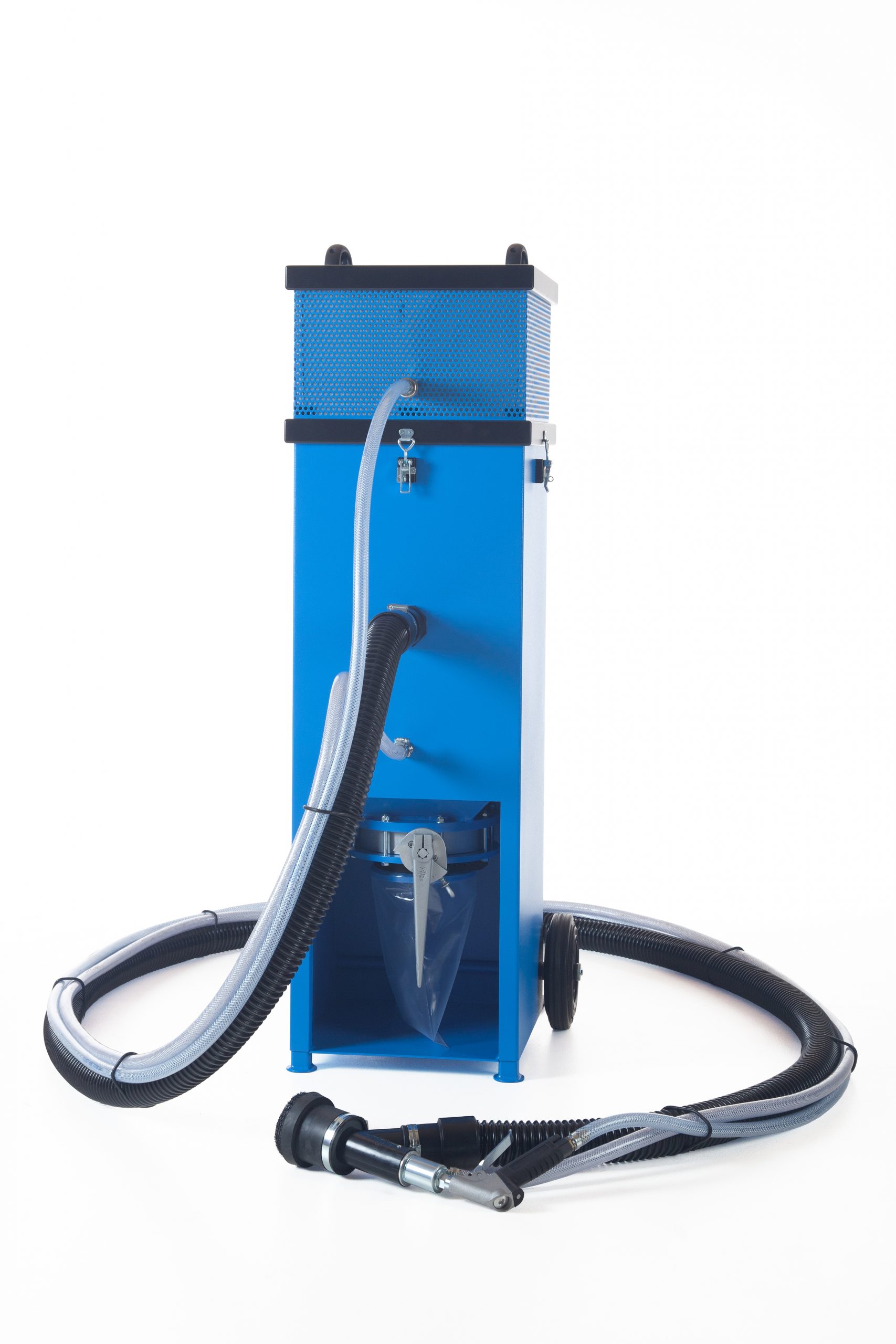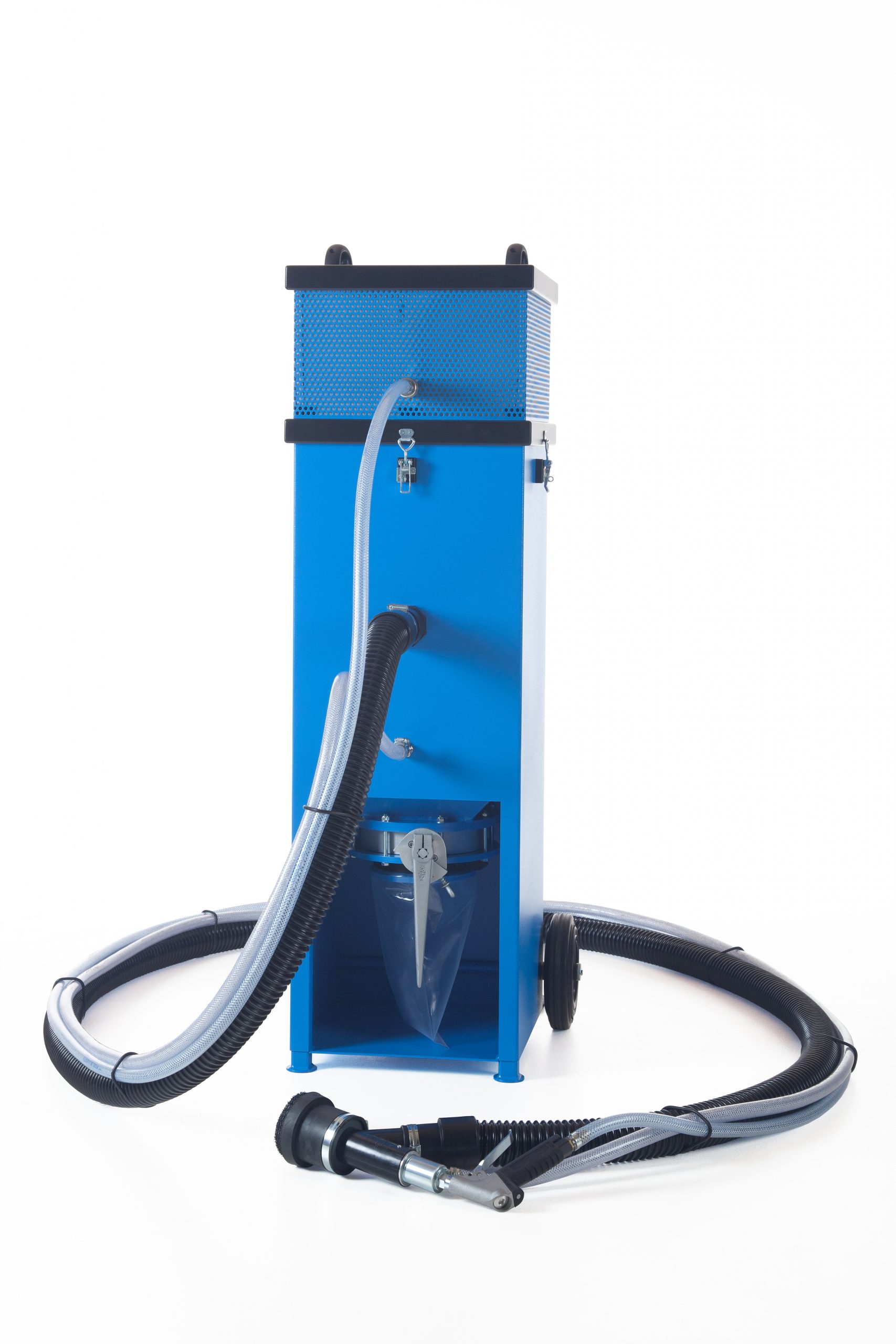 A7 – Alfatechnic Vacuum Blasting Machine
A7 – Alfatechnic Vacuum Blasting Machine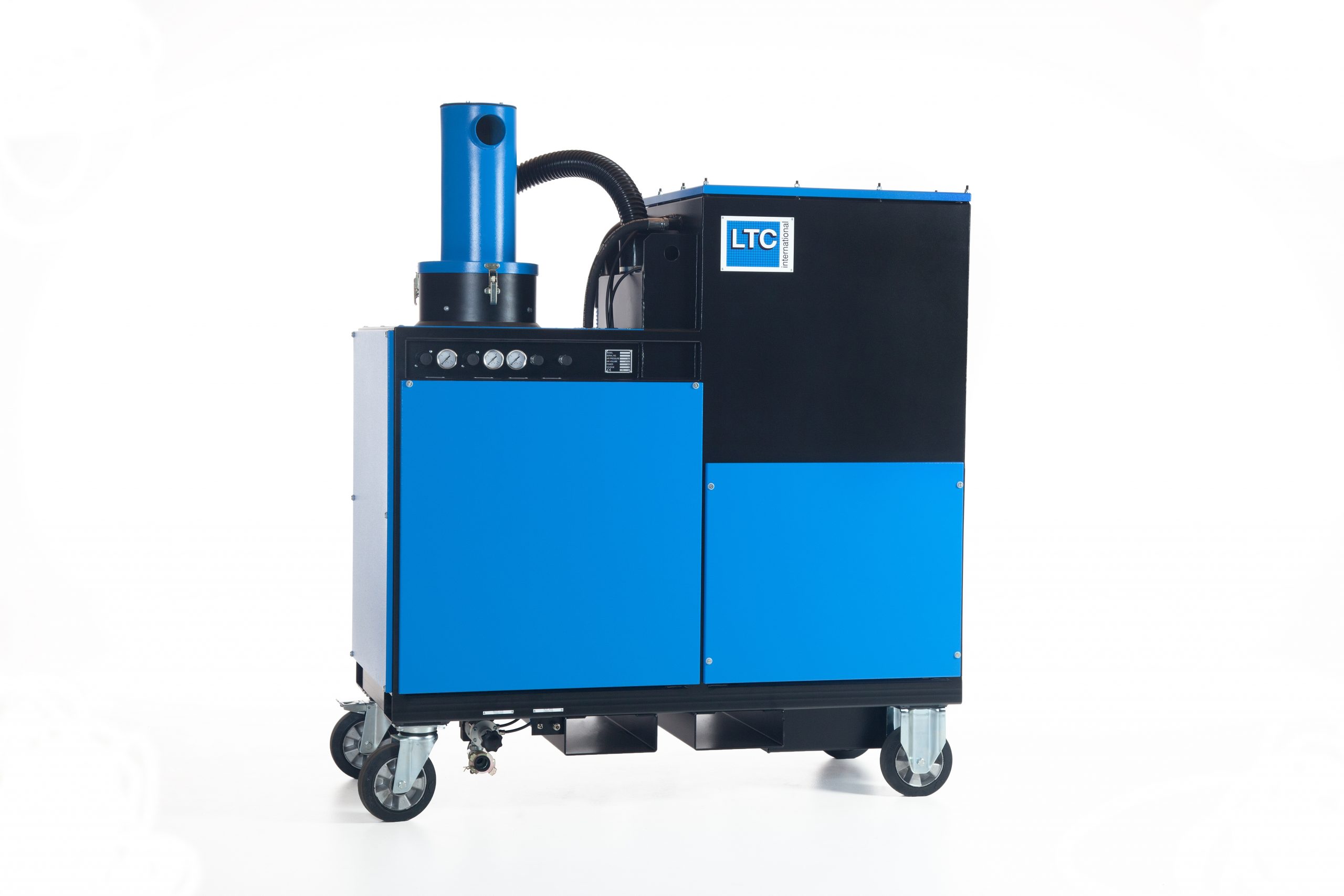 A7 - Alfatechnic Vacuum Blasting Machine
This model "pressure fed" vacuum blasting machine is available in various versions, which makes it able to choose the best suitable machine for the blasting job.
This machines are used for vacuum blasting with the lighter, medium abrasives (Al2O3, garnet, olivine sand, glass beads and plastics) and especially metallic abrasives such as steel grit/shot and cast iron grit.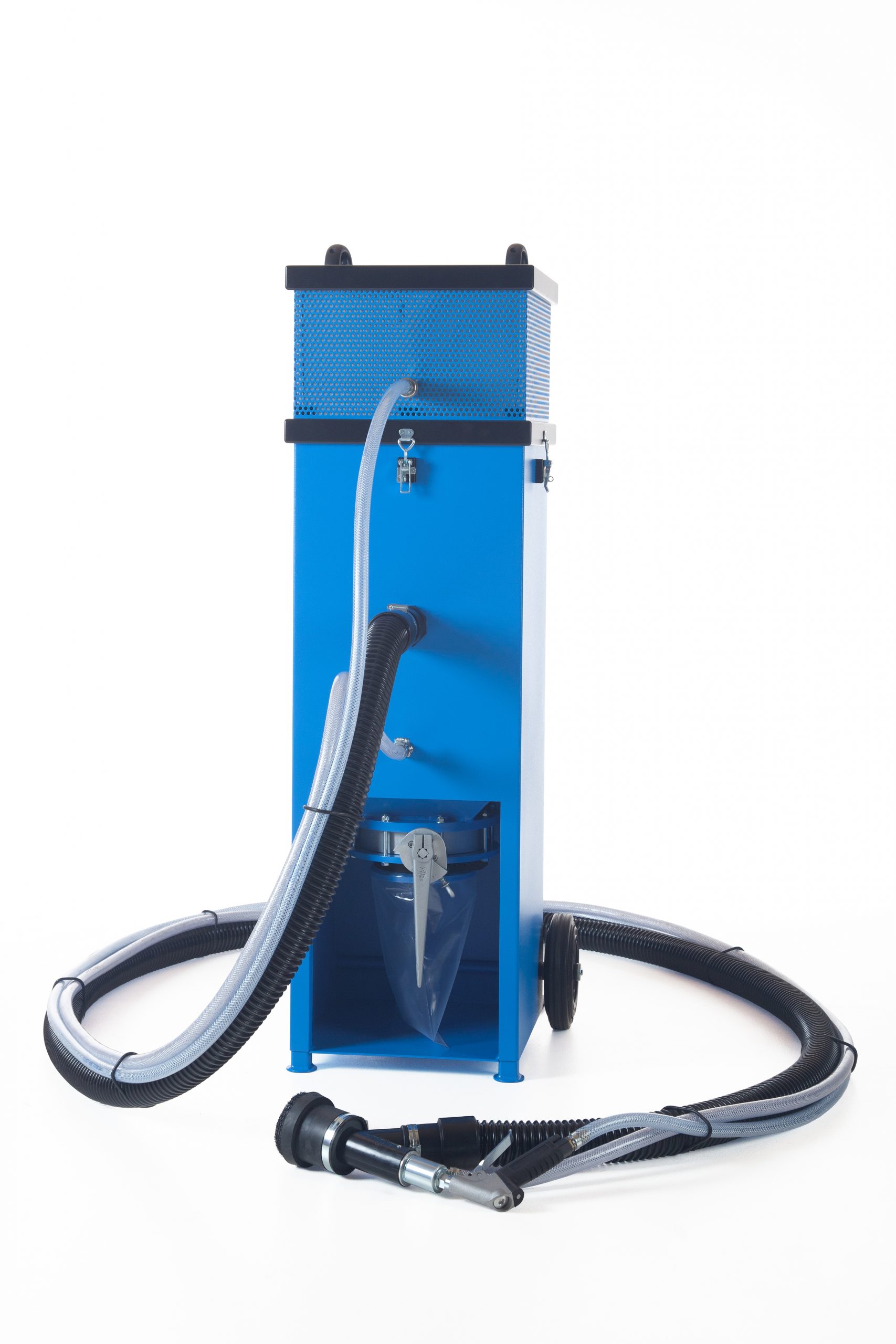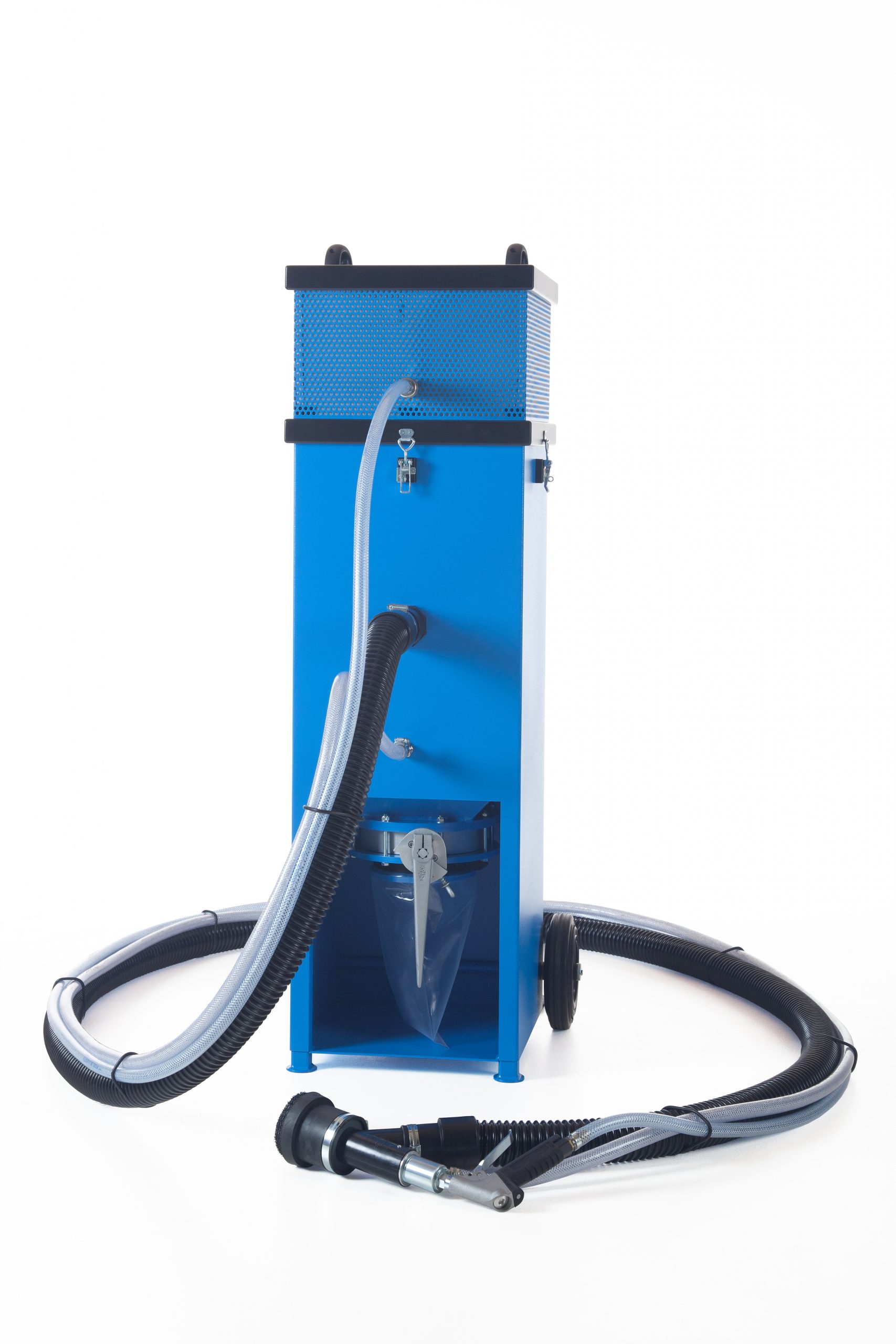 Area of usage:
Storage tank and heavy steel constructions, shipbuilding industry, blasting and finishing weld seams, thermal metallizing and coating processes, rubber cladding, aerospace, maintenance refineries, granite and natural stone work, concrete construction and revision, road markings and lines, polyester and fibre industry.
Model Selection in Vacuum Blasting Depends on the Following Items
Required production capacity (m²/hour or m/hour)
Width of blasting pattern (16 – 55 mm)
Maximum required length of blast hose set (5 -50 m)
Selection of abrasive
Working situation (Factory, on-site, on-shore, offshore
Electrically Pneumatic Version
Pros;
The overall air consumption is less. ( look at the availability of compressed air in the machines workspace). If there is not sufficient air for running a fully pneumatic machine, consider the use of an electric-pneumatic version.
Cons:
The e-motor of the electric fan is a moving part on the machine with a certain life time. Wear is relatively high when switched on-and off very frequently.
The machine version with an electric vacuum generator has a less powerful vacuum which brings a restriction on the maximum usable blast hose set ( 1060/1070). The vacuum power cannot be adjusted in strength, which will have a negative influence when blasting with lightweight abrasives. Too much fine abrasive carried over into the dust bag.
Fully pneumatic version:
Pros;
No moving part on the venturi, so no wear and a endless life time. The vacuum power can be adjusted in strength, necessary when blasting with light weight abrasives. No electricity necessary for running the machine not depending on electricity and machine can be used in many application (stationary, in the field , of-shore).
Maximum usable length of blast hose set of 1060/1070 is much longer compared with EP version machines (30-45 mtr. against 10-15 mtr.)
Machine empty weight is less and the technique in the machine is much simpler (usage and maintenance).
Cons :
The compressed air consumption is much higher.
General applications:
In principle, we always start offering a fully pneumatic version machine. Due to the advantages in use. "Electric driven" machines are most commom used in stationairy positions. In factories and production processes. Places where power supply is always good available and the necessary blast hose lengths are mostly less than 10 meter.
EP
EP
PN
EP
1050 PN
EP(E)
1060 PN(E)
EP(E)
1070 PN(E)
 

Blast media capacity in ltr.

 

9

 

17

 

17

 

28

 

28 lt/

 

40 (24)

 

40 (24)

 

Maximum blast hose length in m.

 

5

 

5

 

5

 

5

 

5

 

10

 

30-35

 

12

 

45-50

 

Empty Weight in kg.

 

25

 

34

 

34

 

70

 

68

 

560

(535)

 

525

(500)

 

590

(565)

 

525

(500)

 

Dimensions in cm. (lxwxh)

 

41x53x93

 

41x53x114

 

41x53x132

 

53x61x132

 

53x61x140

 

157x75x186

 

157x75x186

 

Required compressor capacity in l/min.

 

480

 

1000

 

2300

 

1600

 

3500

 

3500

 

3500-

7000

 

3500-

5000

 

3500-

10000

 

Maximum blasting pressure in bar

 

3-6

 

3-7

 

3-7

 

3-7

 

3-7

 

1.5 -5.5

 

1.5-8.0

 

Electric current in Volt (VAC) Electric power in Watt

 

230

1000

 

230

2000

 

400

3300

 

400

4000

 

400

9200

 

Maximum abrasive size in mm.

 

1.0

 

1.0

 

1.2

 

1.5

 

1.5

 

Average width blast pattern in mm.

 

15-17

 

20-22

 

20-22

 

28-32

 

28-32

 

50/75

 

50/75

 

50/75

 

50/75

 

Average production capacities*:

– Corroded steel, shot primer, light coatings en mill scale

– Heavily Corroded steel, heavy coatings, Chloron rubber

– Steel weld seams

– Stainless steel weld seams (decolourisation)

–

– Concrete, bricks, natural stones Cement film removal or light

coatings, graffiti Removal heavy coatings Cleaning without damaging

 

spot blasting spot blasting 40-50 m/hr

20-40 m/hr

 

 

spot blasting spot blasting spot blasting

 

0,5-1,0 m2/hr spot blasting 40-50 m/hr

20-40 m/hr

 

 

spot blasting spot blasting spot blasting

 

1,2-1,5 m2/hr

 

0,5-1,0 m2/hr

 

50-60 m/hr

40-50 m/hr

 

 

1,5-2 m2/hr

0,5-2 m2/hr

1,0-2 m2/hr

 

4-6 m2/hr

 

2-5 m2/hr

 

70-80 m/hr

60-70 m/hr

 

 

8 – 18 m2/hr

4 – 10 m2/hr

4 – 12 m2/hr

 

5,5-6 m2/hr

 

3-6 m2/hr

 

90-120 m/hr

60-70 m/hr

 

 

8-18 m2/hr

8-18 m2/hr

4-12 m2/hr

*) All mentioned values are averages and may vary due to surface conditions, machine use and experiences of the operator.

 

 

EP: Electric-pneumatic    PN: fully pneumatic        (E): single chamber pressure vessel