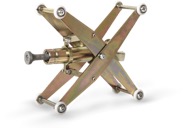 Internal Pipe Sandblasting
Internal Pipe Sandblasting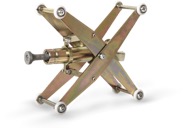 Internal Pipe Sandblasting
The PBT-1 pipe cleaning tool is an ideal companion to clean blast pipes from 3" (75 mm) to 12" (300 mm) inner diameter. The PBT-1 consists of a tungsten-carbide nozzle in a short venturi form with a tungsten-carbide circular deflection tip, which blasts abrasive media in a continuous circle pattern. The tungsten-carbide materials ensure low wear and a long service life.
Centering collars and carriage allow fitting the PBT-1 to any pipe with an inner diameter between 3" (75 mm) to 12" (300 mm). When used without centering collars, the PBT-1 can clean pipes with an I.D. of 3"(75 mm). With the centering collars PBT-1 can be used in the 3" to 5" I.D. pipe range. With cetering carriage PBT-1 is adjustable to handle all diameters between 5" and 12" I.D.
Specifications
Light, moveable, easy to use – Suitable for all type of containers
It can be used plunge the container by pulling trigger easily
By compact sizes it can be used in convectional pressure area
It is a set with 5mm suction hose, suction lance and hose clamp
Internal Pipe Sandblasting
PBT-2 ROTOBLAST is an accessory for all Contracor shot blasting machines that allows easy inspection of the inner surface of the steel pipes. Durable, portable and important for your use. It guaranteed significant increases in efficiency. PBT-2 ROTOBLAST consists of an adjustable center carrier and a fixed speed rotating sandblasting head to produce a uniformly cleaned sandblasting surface. The carrier can be steplessly adjusted from 12 "(304.8mm) to 36" (914.4mm) inner diameter. The rotating head is driven by compressed air and two radially placed nozzles. Adjusting the feed provides a high degree of operational flexibility with all degrees of corrosion of the inner surfaces. The PBT-2 ROTOBLAST unit can be operated with nozzle sizes from .56.5 mm to ∅9.5 mm.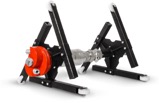 Specifications
Light, moveable, easy to use – Suitable for all type of containers
It can be used plunge the container by pulling trigger easily
By compact sizes it can be used in convectional pressure area
It is a set with 5mm suction hose, suction lance and hose clamp